McGinnis 'Mac' Clark (1921-2007)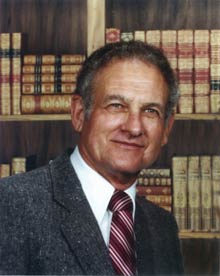 Founder of Clark's Hardwood Lumber Co.
While attending Rice University in 1947, Mac Clark took a part-time bookkeeping job at C. R. Delhomme Lumber Co., which had opened the previous year in the Houston Heights. He began working there full time after graduating from Rice in 1950, and he spent the next eighteen years learning the business, serving most of this period as the company's manager. Mr. Delhomme sold the business to Mac in 1968, at which time the name was changed to Hardwood Lumber Co. ("Clark's" was added in 2004.)
Mac was a decorated WWII fighter pilot; a devoted husband, married 55 years to Bettie; and the father of four children, each of whom has worked at some point for the company. He had a lifelong love of baseball, which showed itself through his years of coaching Little League and his ongoing support for Rice's baseball teams.
Mac's work ethic and business aptitude enabled him to develop the company into Houston's premier specialty hardwood lumber company. He ran the company guided by the values of hard work, honesty and fairness. His handshake was his word.  As a result of his business philosophy and leadership, the company has thrived, and its lumber and other building materials can be found in many homes, businesses, educational facilities, and galleries throughout the state of Texas and beyond.
After seven decades, the company's location has not changed, and neither has the mandate that Mac Clark established long ago: supply our customers with the highest quality building products and provide exemplary professional service every single business day.
Important Dates in the History of Clark's Hardwood Lumber Co.
1946: C.R. Delhomme Lumber Co. opens at 700 East 5 1/2 Street in the Houston Heights on the banks of White Oak Bayou.
1947: McGinnis (Mac) Clark begins working as a part-time bookkeeper at C.R. Delhomme Lumber while attending Rice University.
1950: After graduating from Rice, Mac Clark begins working full-time at C.R. Delhomme Lumber.
1968: C. R. Delhomme Lumber is sold to Mac Clark, who changes its name to Hardwood Lumber Company.
2004: Hardwood Lumber Company is renamed Clark's Hardwood Lumber Co.
Today: Clark's Hardwood Lumber Co. continues to be owned and operated by the Clark family.